By Ethan Qualle
With the arrival of 2020, tensions between Iran and the United States have continued to grow. The United States issued the assassination of Qasem Soleimani, an Iranian general and key leader in Islamic revolutionary movements. This decision by the U.S. military was also made in part to Iran's noncompliance with the 2015 Iran Nuclear Deal. Four days later, on Jan. 7, Iran's military launched missiles to several United States military bases in Iraq; according to President Donald Trump, there were no casualties.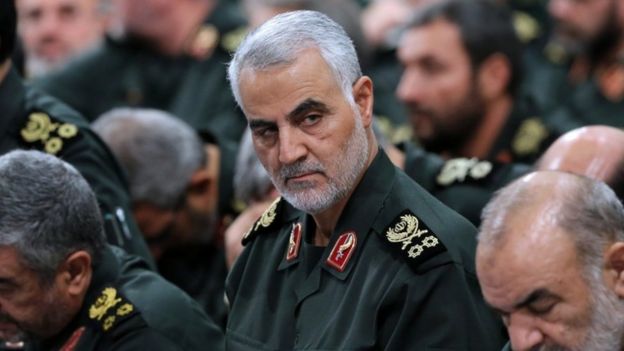 Soleimani was drafted into the anti-American military group in his late teens, and has stood by these values since then. According to TIME, "Soleimani was tasked with sabotaging the American effort in Iraq." As a result of his killing, Iran launched missiles onto Al Asad Air Base, in northern Iraq.
Trump responded to the latest attack by addressing the nation in a speech. He stated, "Iran appears to be standing down, which is a good thing for all parties concerned and a very good thing for the world." He also said, "Soleimani killed thousands of American military troops."
This speech was made after impeachment proceedings in December of 2019, regarding Trump's foreign interference in the 2020 presidential election.
In addition, the crash of Ukraine International Airlines flight PS752 has raised suspicion about the Iranian government's integrity. Iranian authorities blamed "technical issues," according to the BBC. Reports from the BBC claimed the crash to be caused by an "accidental" missile strike 15 kilometers north of Tehran's Imam Khomeini International Airport, just two minutes after departure. It was later admitted by the Iranian Armed Forces that they were at "highest level of readiness" when the airliner was shot down; they believed the airliner was associated with the United States.
The New York Times reported that Iranian officials also did not perform the investigation with "universally accepted procedures," in which Ukraine suggested that Iran would not have taken responsibility for the crash, in the absence of video and radar evidence.
As a result of the newfound use of missiles, some Americans have expressed concerns of the possibility of war and many are already calling it "World War III," which has has been trending on many social media platforms. Teens and young adults have taken to TikTok, Twitter and Instagram discussing the possibility of being drafted and creating various memes about it.

Registered behavior technician and Florida Tech graduate student Anna Reick said, "The youths of our generation are internally scared of being drafted, and use humor as a defense mechanism; they are desensitized to war, having grown up during the Iraq War."
Patricia Sullivan, a military policy researcher at the University of North Carolina at Chapel Hill, told The Washington Post, "I think there is almost no chance at all that the draft will be reinstated," Sullivan said. "With Iran, there's almost no chance that we're getting into the kind of ground-war scenario that large numbers of ground troops would be needed and we would implement the draft."

Some Florida Tech students have voiced their thoughts about taking the draft as a serious concern at this point and time in their lives.

"I am definitely worried about the war because of how the Iranians responded to the killing of one of their top generals," said Farran Barker, a sophomore in business. "I am not worried about being drafted because I am enrolled in college. As the memes on Twitter are funny, this conflict is a very serious situation that should be treated as so."

The last time the draft was in use was in December of 1972 for the Vietnam War. The draft was suspended in 1973 as a result of protests; according to the Selective Service System of the United States Army, college students may qualify for a student deterrent, given they are in good academic standing.
As reported by many news outlets, the United States and its allies are keeping a close eye on the situation in Iran. Trump has said that Iran "appears to be standing down" as of his speech made on Jan. 8. He is confident that despite the various missile strikes in Northern Iraq and the crash of Ukraine International Airlines flight PS752, the United States is willing to "embrace peace" with Iran and its people.